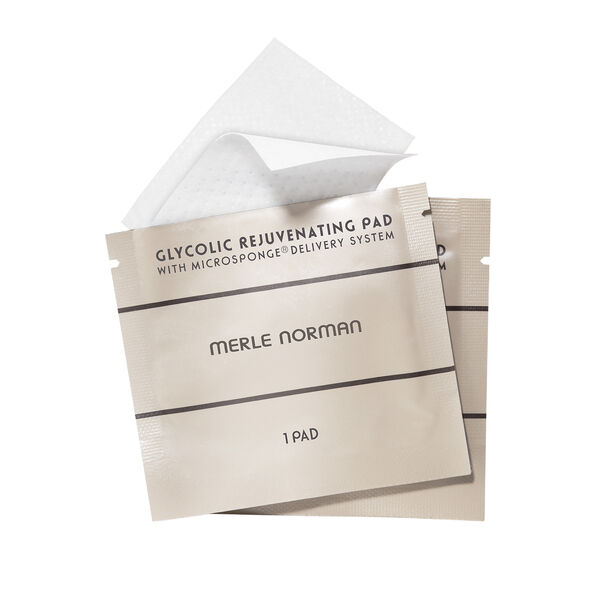 Glycolic Rejuvenating Pads
For all skin types.
Reveal younger and healthier-looking skin with our clinically proven chemical peel. Featuring a patented MICROSPONGE® technology, this single-dose pad is designed to deliver a time-released application of maximum strength Glycolic Acid (10%) for a more effective exfoliation of the dead cells on skin's outer surface. Because the Glycolic Acid is a sustained release, the formula is well tolerated. Vitamin E and Licorice Extract help soothe and refresh skin for a more comfortable exfoliation experience. After 4 weeks of use, women reported softer, smoother and brighter skin with a decrease in pore size, dark spots and roughness.*
*Based on a 4-week clinical study.
16 Pads
Key Ingredients
MICROSPONGE Delivery System®
Patented spheres dispense a time-released dose of Glycolic Acid for a more even and tolerable application.
10% Glycolic Acid
Chemically exfoliates skin by gently dissolving dead cells on skin's surface, lifting them away to refine and rejuvenate skin's appearance.
Vitamin E
Antioxidant that promotes healthier-looking skin.
Licorice Extract and Witch Hazel
Ingredients that soothe skin and provide a comfortable exfoliation experience.
Open one pre-moistened pad and wipe across cleansed face and neck, avoiding the eye area. Dispose of pad. Leave on for 5-10 minutes. Rinse with water. For best results, use 2-3 times a week depending on your skin tolerance. People whose skin is prone to sensitivity may not find this product appropriate. Limit daily sun exposure and use a moisturizer with UVA & UVB sunscreen protection.
Alcohol-free. Fragrance-free. Oil-free.
Water/Aqua/Eau, Glycolic Acid, Sodium Hydroxide, Methyl Methacrylate/Glycol Dimethacrylate, Crosspolymer, Glycerin, Hamamelis Virginiana (Witch Hazel) Water, Calendula Officinalis Flower Extract, Glycyrrhiza Glabra (Licorice) Root Extract, Citrus Aurantium Dulcis (Orange) Flower Water, Tocopheryl Acetate, Butylene Glycol, Lauryl Methacrylate/Glycol Dimethacrylate, Crosspolymer, Xanthan Gum, Benzoic Acid, Phenoxyethanol, Ethylhexylglycerin